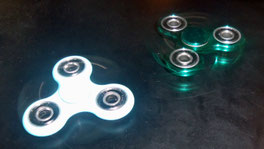 The Toy Shop phone rings.  We know what the person on the other end of the line is going to say even before we pick up:  "Do you have any of those fidget spinners?"
The sudden and powerful fidget spinner craze has swept our town in a matter of a few weeks.  And we're certainly not complaining.  Fidget spinners are fun, safe, inexpensive, easy-to-use, and slightly addictive toys that are great for kids and grown-ups of all ages.  
But it's not just fidget spinners that have been making waves in the toy business. All fidget toys—toys designed to keep hands busy while allowing the mind to focus on other things--are seeing an increase in variety and production.  Which leads us to wonder, "Why?"
For years fidget toys have been recommended to control behavior and improve the focus of children with ADHD and Autism, as well as to soothe anxiety in those with OCD.  But the benefits are not limited to people with those conditions.  The truth is that the modern society we live in is rushed, impatient, and stressful for EVERYONE, including our children.  And the need to relieve that stress is a universal desire. Most all of us can benefit from the act of "fidgeting", and that will long outlive the spinner craze.
So here is our list of our favorite, best-selling, tried-and-true fidget toys that ARE NOT spinners!
Our criteria for this list are toys that are:
-silent
-inexpensive
-no removable parts
-small enough to fit in pockets or purses
Additionally, all these fidgets encourage relaxation, sensory stimulation, fine-motor skills, and hand-eye coordination.
1.  What'Zit
     by Original Toy Company
     Wooden painted blocks held together by elastic bands that can be arranged into various geometric shapes.  The What'Zit is a classic fidget toy that comes in a variety of styles, including Animals and Minis.
---
2.  Folding Puzzle Cube
     The manipulation of this cube results in different designs, depending on the configuration of the attached blocks.  We've seen these in many forms over the years, from grown-up office toys decorated with famous paintings, to soft cubes made of fabric for toddlers. 
Feeling crafty?  You can even find instructions online to make these yourself!
---
3.  Tangle Jr.
      by Tangle Creations

     Available in different styles and textures, including "hairy", these continuous loops are made of curved plastic links that twist and turn, and can be disconnected and re-connected, depending on how the user wants to fidget with it.
---
4.  Crazy Aaron's Thinking Putty
     As the name suggests, this putty is designed to keep your hands busy so your mind can think!  This toy is tops on many of our top five lists.  A wonderful product made by a wonderful company. (check them out here)
Our favorite thinking putty style is the hypercolor that changes color with the heat of the your hands.  But all types are great. 
Thinking Putty comes in large tins, but is also available in perfectly-portable mini tins for putty fun on the go.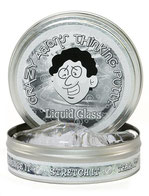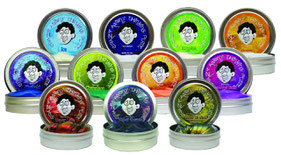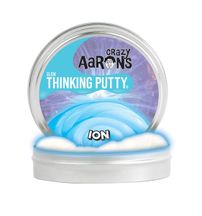 ---
5.  Koosh Balls
     by Hasbro
Yes, we all remember this hairy little ball with its colorful, tickly, squishy, rubber strands.  The Koosh Ball offers a uniquely addictive, tactile experience that has made it an iconic, timeless toy.
That tactile quality makes the Koosh Ball a perfect item to keep hands busy.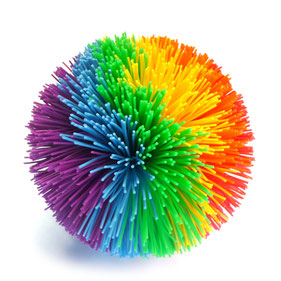 ---