by, The Toy Shop Mom
Check out this witch!  Spooky, eh?  I made this witch well over 30 years ago in Kindergarten!  As you can see, it was finely crafted out of a paper plate, black construction paper, orange yarn, a piece of an egg carton, and crayons.  (I was quite talented.)
My mom was so proud of me when I brought this home.  So much so that this beautiful decoration, and all the other Halloween-themed art that my brothers, sister, and I made were preserved in a special box and taped to the living room wall every year during October.  There were boxes full of similar such artwork for all the other major holidays, too.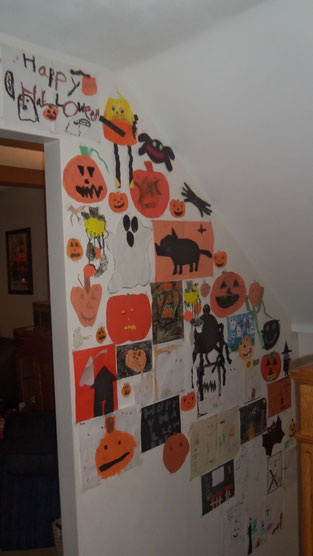 ---
(Here's one of my daughter's masterpieces, entitled, "Mr. Candy Corn".
It isn't Halloween in our house until Mr. Candy Corn is back up on the wall!)
Well, I've been a mom a long time now, and have acquired my own fantastic collection of incomparable art from my own children.  And each season these precious pieces of love are carefully taped up in our own Gallery--specifically, our front hall--for every visitor to see. 
Every year new projects are added, but we still present the "early works" of our resident artists.   Jack-o-Lanterns, witches, ghosts, bats, spiders.  Some of these gorgeous creations are as much as 15 years old now.

Displaying the kids' art is an integral part of all the holidays in our house.  The kids look forward to seeing their hard work on display, and enjoy seeing how their creativity and talent has "matured" over the years.
It also helps our older daughters recapture the magic of the holidays from years past, when they were young.  And it definitely makes childhood feel closer to me!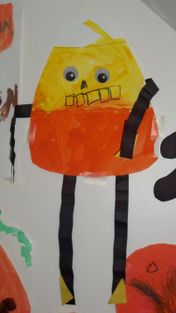 ---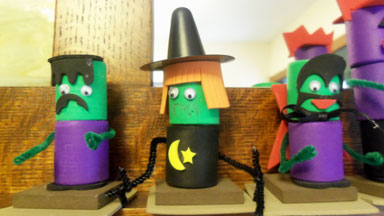 (It's not just 2-dimensional art that gets preserved.  Dig that crazy mustache!)
---
So you're probably wondering why I'm bringing this up.  It's not about toys, after all.  But it is about kids.  And about doing little things that make childhood special, memorable, lasting, and fun. Your kids are young for such a fleeting time.  And every day they're confronted with outside influences attempting to make them grow up way too fast.  It's critical to me as a parent to capture that time of childhood, hold onto it, and make the most of it.  
And it doesn't take much to make moments special.  No purchase necessary!  Just time, love, and maybe a little construction paper and glue.  :)